Mountainbiking in the Almenwelt Lofer
The Kechtalm - at the heart of the biking action
Tour tip in "BIKE" magazine
A very special tour, the Kechtalm tour, appeared in the article "Bike Special 2016 Salzburg Region: The most beautiful hut tours".
The start is near Friedlwirt in Unken and goes up to the Lofer Alm via the Fusstalstube.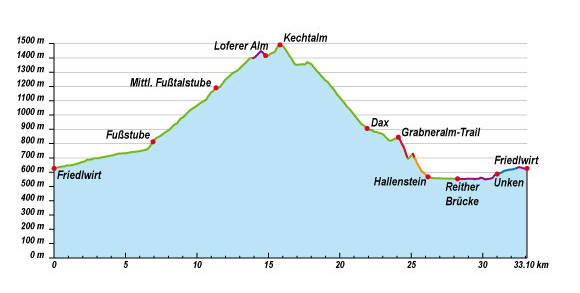 Pinzgau Trophy
The Kechtalm is the finish of the "Pinzgau Trophy" mountain bike race, and welcomes sporting participants to the Schwarzeck.
Open up new dimensions!
The diverse terrain in the Almenwelt Lofer is absolutely ideal for mountain biking. Hit the pedals, enjoy the nature, feel the freedom and spend a little time in a quiet, wonderfully sunny spot. The possibilities in this practically untouched countryside are endless:
Take the Almbahn I cable car to the "Loderbichl" middle station, where you can start more tours
The link "Steinplatte - Lofer Alm" is really interesting, above all for ambitious bikers
One very special route takes you from Unken towards Schwarzeck and straight on towards the Kechtalm.
You can also reach the Lofer Alm and the Kechalm via the 8 km long toll road
Do you want to take it a little easier or save your strength for other tours? Such as the route from the Waidrigner Steinplatte range via the Winklmoosalm to Unken into the Heutal. Then you should definitely use the cable cars which operate in summer for an easy, comfortable ascent. By the way: They will take your bike for free!
Many of the sports stores in the area also hire out e-bikes, which even less-fit cyclists can use to become real "highfliers" without strenuous mountain climbs.